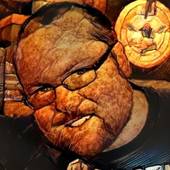 Since 2000 I have continued to expand my knowledge and skills and worked hard to be the best developer I can be.
I enjoy meeting challenges and working hard to find creative and user friendly solutions.
My goal is to continually improve my development process, delivering higher quality and efficiency.
Specialties: PHP, ASP.NET MVC, HTML, CSS, JavaScript, jQuery, CodeIgniter, Zend Framework, AJAX, Windows, Linux, MySQL, SQL Server, WordPress, ASP.NET
Justin, pictured here, is The Thing from the Fantastic Four.