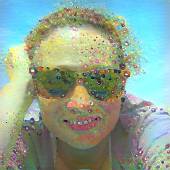 Laura is a freelance Communications Specialist and Writer. She is a stay-at-home mom who does not stay at home! She works various contracts while working from home. Her primary job is running the website Valley Family Fun which is a resource for families living in the Valley.
She is very involved with her community and participates in many volunteer activities.
Laura's profile picture was created by software inspired by her painting inspired by Monet. The cover pic was created by the same software re-interpreting her painting with Monet's Starry Night as a reference.